Made on Maui Collections: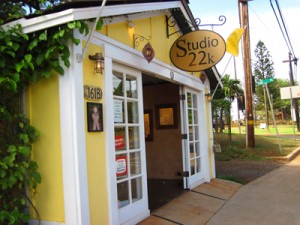 Sherri Dhyan is the owner and inhouse goldsmith of Studio 22k on Maui, HI.
Educated at Parsons School of Design in New York City where she studied fine arts, graphic design and Jewelry arts.
After pursuing several art related jobs, one of which was working as a bench jeweler for the Gloria Vanderbilt Jewelry Line on 47th Street, the jewelry district of New York City, she became disillusioned with the commercial jewelry industry. Instead, she pursued the path of fine arts and graphic design for a few years.
Years later, a colleague shared information of a school focusing on ancient jewelry styles and techniques called the Jewelry Arts Institute (JAI). Sherri enrolled and studied directly under the guidance of Bessie Jamieson, co-founder of JAI, and her then assistant Myron Bikakis (jeweler currently showcased at Studio22k). For the next several years she studied, practiced, and worked in creating fine art and jewelry.
In 1990, Sherri moved to Japan and spent the next four years focusing on her fine arts, exhibited in several galleries of the Ginza, Tokyo, and doing art installations in the streets of Tokyo. In 1994 she Returned to New York City and back to her own studio on Varick Street. In a partially abandoned warehouse on the edge of Soho. Sherri focused on impromptu street installation, building art performances, and exhibiting in galleries in Soho. Still making jewelry she joined a fine jewelry gallery in Makawao HI called "Master Touch" wherher first jewelry collection was exhibited.
In 1996, with an opportunity to co-star in a film "MilK" showcased at the Berlinale International film festival. The filming took place in Tokyo and New York City. Traveling back to Asia lead her to move to Maui HI, In the summer of 1996.
The next 2 years she spent working her way up from a part-time position to the director of Lahaina Arts Society, a gallery consisting of over 300 artists.
Pursuing a dream to have her own gallery, in 1999, she opened her own art studio/gallery in Keokea, upcountry Maui. A place were all aspects of her work could be exhibited in an old plantation style building with an outdoor space. She created a sculpture garden made from sculptures "Golems", abandoned antique trucks, vegetables, and flowers. Inside an old garage she set up a jewelry and painting studio. All open to the public.
13 years later, in March of 2012, Sherri opened Studio 22K in Paia, HI. A small funky little surf town on the northshore of Maui. Studio 22k is a gallery dedicated to the creation of high karat gold jewelry and is a showcase for Sherri's work as well as that of her colleagues and master goldsmiths. This unique and one of a kind gallery is a working studio of Sherri Dhyan ,where the entire process of ancient jewelry can be observed and purchased.
Sherri Dhyan
Visit her other site here: SherriDhyan.com