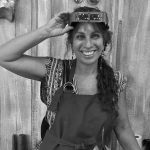 Sherri Dhyan first majored in metal arts at the Parsons School of Design in New York City. After working as a bench jeweler on 47th street in the jewelry district, for the Gloria Vanderbilt jewelry line, Sherri became disillusioned with the commercial jewelry industry, switching her major to graphics and fine arts. And as a working artist Sherri took on various types of jobs: assistant graphic designer for an advertising firm, illustrator for cartoon style maps and even a temporary tattoo artist in several nightclubs in New York City during the 80's. Working part time as an assistant to goldsmith Steven Verbel, Sherri continued her jewelry education enrolling in a school specializing in ancient jewelry metalsmithing "Jewelry Arts Institute" in New York City training directly under Bessie Jamieson and later Myron Bikakis.
At the end of 1989 Sherri moved to Tokyo, Japan for 4 years. Her focus shifted to fine arts, where she found a voice as a socially engaged artist. Exhibiting in several galleries of The Ginza, in Tokyo and creating art installations on the streets of Tokyo.
Having returned to NYC in 1994 and back to her studio on Varick Street, Sherri continued her installations on the streets of New York. And collaborated with other artists in a partially abandoned warehouse space, creating art performances and exhibitions. She also had her first Solo exhibition at the "Kiki Gallery "in Soho.
A year later she was approached by film maker/artist Edgar Honetschlager to co-star in a film called "Milk" which was filmed in both Tokyo and New York City. "Milk" showcased in 1996 at the Documenta X, Griffin Contemporary Exhibitions of Los Angeles, CA and Art Basel.
Maintaining a personal love and desire for ancient jewelry, Sherri continued her passion creating pieces for herself, friends and family. This snowballed into a part time business. Establishing herself in a jewelry gallery called "Master Touch Gallery" in the small town of Makawao on the island of Maui.
Falling in love with Hawaii, Sherri moved to Maui, in 1996. She opened her own gallery and sculpture garden in a "funky little" plantation style building in Keokea, on the slopes of Haleakala.
Taking her jewelry business to a small beach town in Paia, Sherri opened Studio22k in 2013.
"The Unveiled", her current painting series and book was inspired by her Near-Death Experience while living in Keokea. Painting and sculpture continue to be a large part of Sherri's life in her private studio in Kula.
Visit her other site here: SherriDhyan.com