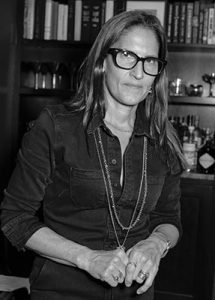 Nanci Modica was born and raised in Manhassat, New York. She first became interested in jewelry making while in high school and attended night and weekend classes at Parsons School of Design and Kulicke-Stark Academy in New York City studying under Robert Kulicke and Bessie Jamieson, owner of the Jewelry Arts Institute.
Nanci moved to Manhattan as a teenager where she worked for the painter Keith Haring. She continued to study the art of jewelry making and eventually served an apprenticeship in classical jewelry construction with Bessie Jamieson, who would become a lifelong mentor. Nanci's work with Jamieson included assisting with demonstrations of ancient jewelry construction techniques during the "Greek Gold" exhibit at the Metropolitan Museum of Art in 1992. She also worked as a teaching assistant, demonstrating jewelry making at the Bard College graduate program and the World Gold Council.
After completing her apprenticeship in 1994, Nanci continued as a full-time instructor at Jewelry Arts until 2003 when she launched Lunula Studios, located in the Soho District of Manhattan and specializing in high karat classical and contemporary gold jewelry. At Lunula, Nanci collaborated with top goldsmiths to create work for galleries and private clients while continuing to teach and make jewelry on her own. Between 2010 and 2014, she partnered with jewelers Bikakis and Johns to create work in the ancient classical tradition.
Over the years Nanci has collaborated with the estate of Keith Haring to develop a jewelry line for Pop Shop New York and Tokyo; with Ralph Lauren on fine jewelry, hardware and leather goods; with Estee Lauder on the Beautiful Belle campaign and with MAC cosmetics on the Viva Glam Campaign. She also worked with designer Alexander Wang to create runway jewelry for fashion shows.
In 2014 Nanci moved her studio from Manhattan to the DUMBO section of Brooklyn which is the home of Atelier Modica. She lives in Hell's Kitchen with her husband Jesus Perera, their son Frankie and Boston Terrier Clio.
Nanci's work is currently for sale at Hummingbird Jewelers in Rhinebeck, New York and Slate Gray Gallery in Telluride, Colorado.