Diamond
Mineral: Carbon
Hardness: 10
Birthstone: April, Anniversary: 10th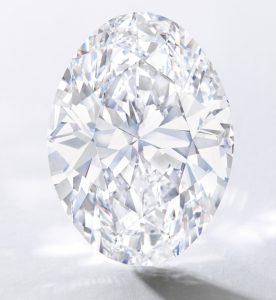 The name diamond comes from the Greek word "adamas," meaning invincible. They are mined in over 20 countries including; Africa, India, Russia, Brazil, Australia and the United States.
Natural diamonds can be 3.3 billion years old. Formed more than 100 miles below the Earth's surface, they were carried upward by volcanic forces. The world's largest cut white diamond, is the Star of Africa, it weighs 530 carats and is part of England's Crown Jewels. The world's most expensive diamond is the Pink Dream, it is almost 60 carats, and sold for $83 million in November 2013. The Largest diamond in the universe is nicknamed Lucy (after the Beatles songs, Lucy in the sky with diamonds), it is a dwarf star with a diamond core. Our own sun apparently awaits a similar metamorphosis. When it is all burned up, its carbon core will harden to form a diamond core.
In the 1940s, GIA developed the 4Cs and International Diamond Grading System to objectively compare and evaluate diamonds. The 4Cs are carat, color, clarity and cut. The 4c's work together to judge the value of a diamond.
The carat is a standard unit of weight and takes its name from the carob seed. The seeds are fairly uniform in weight so gem traders used them as counterweights in scales. Recognized worldwide, the modern metric carat now equals 0.2 grams. A carat in made up of 100 points. So a 50pt. diamond is a 0.50 carat.
The color: Diamonds are generally valued by their lack of color; the less color, the higher the value. GIA's color-grading scale is the industry standard beginning with the letter D (colorless) continuing to the letter Z. The exceptions are fancy-color diamonds; shades of pink, blue, green, yellow, or the rarest reds and purples.
The clarity: Unique birthmarks, either internal (inclusions) or external (blemishes) are often found in diamonds. Clarity refers to the absence of inclusions and blemishes. Diamonds without these birthmarks are rare and very highly valued; especially in larger sizes. GIA assigns one of 11 clarity grades that range from flawless (FL) to obvious inclusions (I3).
The cut is the factor that fuels a diamond's fire and brilliance, what consumers call, "the sparkle". Its allure depends more on cut than anything else. The cut has three attributes: brilliance (total light reflected), fire (dispersion of light), and scintillation (flashes of light or sparkle).
To many cultures diamonds represent virtue, purity, strength, wealth, power, and love. Celtic legend says a diamond could reveal a man's guilt or innocence. Medieval knights wore them to be invincible. Diamond wedding rings have been exchanged for hundreds of years and are believed to ensure fidelity and strengthen emotional bonds.