David Clarkson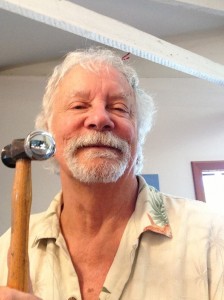 "Making metal move and change is an amazing process; with the right tool in the right hands, the silver or gold changes shape, molecules realign, the metal hardens and it takes on a lovely "worked" quality. Each blow of the mirror polished face of the hammer marks the final product, creating the handmade look and feel that is comfortable, stylish, and positively delicious! Training the muscles in one's hands and arms to guide the hammer precisely takes many, many hours, but the results are always wonderful."
Each piece of jewelry art is hammered and shaped by David to create variations of design. This is the mark of true craftsmen. David's been hand forging silver and gold for more than 45 years!
Without the intention of making jewelry his career, David began his studies of jewelry making in 1967. He learned the basics in a workshop of Designers 3 in Cambridge, Mass. and came to California in 1969. David has had a store on the coast of California ever since. He is currently in Point Reyes Station, an hour's drive north of San Francisco.
David studied at the Revere Academy, taking a few workshops and classes, and experimenting with new techniques over the last 45 years. He is eternally grateful for the training and inspiration he's received over the years and he has done his best to pass that on to others along the way by taking on students.
"I still love coming to my workbench, love working with people, often collaborating to create wedding rings and other significant jewelry."