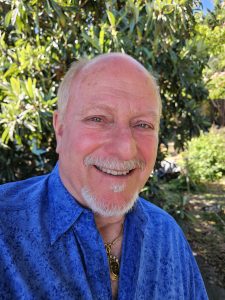 GOLDSMITH
I am a jewelry artist because it is my passion and life's work. So much inspiration is found in the natural world that surrounds my daily life in Northern California. Golden sunlight filtering through the towering redwoods, ocean spray blowing off the tops of crashing waves, the full moon illuminating the mountain ridges, and morning dew sparkling like diamonds in spider webs at dawn. All this splendor seen with my jewelers' eye drives me to create and express my inner visions of beauty and timeless adornment.
I was twenty-three years old when I peered over my friend's shoulder as he was sizing a ring. In watching this transformation, I knew in my soul, at that moment, that creating jewelry was what I was destined to do in my life.
This powerful inspiration was the catalyst for immersing myself in the ancient techniques of jewelry fabrication. Working/playing in my studio using intricate and multiple soldering, at 1600 degrees on gold, I create classically elegant, one-of-a-kind treasures that can be worn and cherished for generations.
I knew I had sat at a jeweler's bench before this lifetime when in 1973 I was drawn to a 3,000-year-old gold cuff at a Celtic exhibition at the DeYoung Museum in Golden Gate Park, S.F. On my wrist was the exact same "new cuff" I had just completed the previous day.
I am predominantly self taught and have studied at the Revere Academy in San Francisco. I have shown my work at various juried art fairs and galleries for over forty years from New York to Hawaii. My jewelry has won awards in NYC, Beverly Hills, San Francisco and Seattle. As An award winning jewelry designer and goldsmith I have been honored to adorn thousands of people, who wear my jewelry embracing it as a personal part of their lives.
To me, being an artist is about sharing the beauty and allure of fabricated jewelry, helping others find their own creative spirt, and keeping alive this most ancient art and joyful adornment.