Sherri Dhyan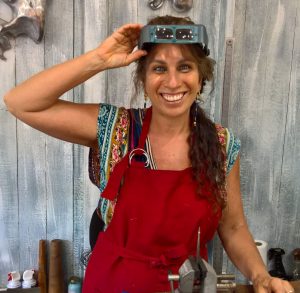 Sherri Dhyan, the owner and main goldsmith of Studio 22k, was educated at Parsons School of Design in New York City where she focused on fine arts, graphic design, and majored in Jewelry arts.
After pursuing several art related jobs, one of which was working as a bench jeweler for the Gloria Vanderbilt Jewelry Line on 47th Street (the jewelry district) in New York City, she became disillusioned with the commercial jewelry industry. Instead, she pursued the path of fine and graphic arts for a few years, working as a graphic designer, map illustrator, painter, and sculptor.
A few years later, a friend and colleague Denise Karas shared information of a school focusing on ancient jewelry styles and techniques called the Jewelry Arts Institute (JAI) where Sherri enrolled and studied directly under the guidance of Bessie Jamieson, co-founder of JAI, and her then assistant Myron Bikakis (jeweler currently showcased at Studio22k). For the next several years she studied, practiced, and worked in creating fine art and jewelry.
In 1990, Sherri moved to Japan and spent the next four years focusing on sculpture, installation art and traveling Southeast Asia. She exhibited in several galleries of the Ginza, Tokyo, and on the streets of the city doing art installations.
In 1994, Sherri exhibited her first jewelry collection on Maui, Hawaii at "Master Touch" gallery in Makawao. Later that year, she returned to New York City to set up a studio in a partially abandoned warehouse on the edge of Soho with several other artists. During this time, she focused on impromptu street installation art in the city.
In 1996, she was offered the opportunity to co-star in a film showcased at the Berlinale International film festival. The filming took place in Tokyo and New York City and gave her the opportunity to return to both Japan and Maui.
In the summer of 1997, Sherri finally moved to Maui full time. For the next three years, she worked her way up from a part-time position at the Lahaina Arts Society to Gallery Director.
In 1999, she opened her own art studio/gallery in Keokea, in upcountry Maui; an old, plantation style garage with an outdoor sculpture garden full of art, abandoned trucks, vegetables, and flowers popping out of everything.
Wanting to be more centrally located, Sherri opened Studio 22K in Paia in March of 2012. Studio 22k's purpose was and continues to be a working studio and gallery where the entire process of ancient jewelry can be observed and purchased. Studio 22k is a gallery dedicated to the creation of high karat gold jewelry and is a showcase for Sherri's work as well as that of other master goldsmiths.
One day, Sherri hopes to have a larger space where she, and other visiting artists, can host workshops and exhibit their work.
Sherri Dhyan