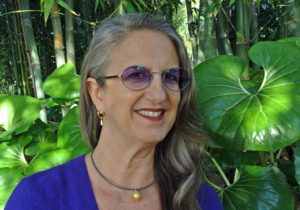 Nancy is a jewelry designer and fabricator who utilizes Chasing and Repoussé and a variety of other metal techniques to create unique, highly crafted, one-of-a-kind and limited-edition jewelry. Her work has been featured in books "Showcase 500 Rings" and "Showcase 500 Beaded Jewelry" by Lark Crafts. Her work has been curated and exhibited
into "Earthly Delights: Metalsmiths Inspired by Nature" at Lillstreet Center for the Arts in Chicago, IL, "The Power and the Beauty" at Alchemy 9.2.5 in Belmont, MA and the "The First Annual Chasing & Repoussé International-Survey- 2000-2015" at Outnumbered Gallery in Littleton, CO were she was a juror, demonstrator and exhibitor of the technique for the show
.
Meli Walker began her studies in jewelry fabrication at Jewelry Arts Institute in NYC in 2001. After moving to California in 2002, she continued her education in jewelry manufacturing and gemology at the Gemological Institute of America and graduated in 2004. She has continued her studies in metal techniques at the Revere Academy in San Francisco with Jean Stark, Ronda Coryell, Kent Raibe, Fabrizio Aquafresca, Felix Stussi, and John Cogswell; the Whaley Studios in San Diego with Jay Whaley and Nancy Megan Corwin; the Davide Bigazzi Studio in Menlo Park, CA; the Cecelia Bauer Studio and the Valentin Yotkov Studio in New York City and with Ford Hallman at Jonas Blade and Metalworks. Meli Walker graduated from the Fashion Institute of Technology, NYC, in 1979 with an AA in
Fashion Design specializing in Knitwear. She worked in the fashion business from 1979 to 1983 in NYC, Hong Kong, Taiwan, South Korea and Japan.
Other art activities include from 1986-2002 Ms. Meli Walker worked as a fine artist and media mixologist as a solo artist and collaborator. She co-founded the live video performance trios The Poool [1996-1999] and NNeng [1998-2001]. The concerts from these groups have been presented at the Whitney Museum of American Art, Artist's Space, Roulette and The Kitchen in NYC including performances in Spain and Japan. Her video, installation and solo art work have been shown internationally in galleries, museums, festivals and the Internet. Please review the full art resume at www.nancyworld.com.
Ms. Meli Walker was born in Youngstown, Ohio and has lived in Seoul, Korea; Tokyo, Japan; New York City and several cities in California. She currently splits her time between Laguna Beach, California, New York City and Maui, Hawaii.